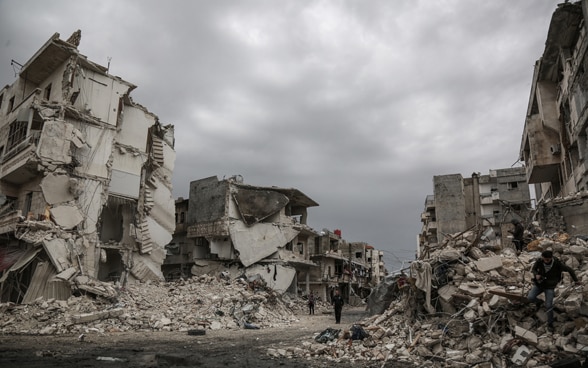 With the armed conflict in Syria now in its eight year, the situation remains precarious. Violations of international humanitarian law and human rights are ongoing. Even though the conflict in some areas has become less intense, fighting is still taking place. The military involvement of various regional and major powers is leading to a considerable risk of escalation, especially in the northwest and northeast of the country. Meanwhile, over 12 million people in Syria rely on humanitarian aid. More than 6 million of these are internally displaced. A further 5.6 million Syrians have fled the country as refugees, mainly to the surrounding region. The conditions for their return in safety and dignity are currently not in place.
With the conflict ongoing, and given the scale of humanitarian needs in Syria and the region, the EU and UN organised a two-day donor conference in Brussels on 'Supporting the Future of Syria and the Region'. Switzerland reaffirmed its commitment at this conference. For 2019 it has earmarked CHF 61 million to support those in need in Syria and neighbouring countries. Switzerland has so far provided CHF 397 million since 2011, which makes this Switzerland's biggest ever humanitarian undertaking. Switzerland's engagement is not limited to humanitarian aid in Syria. It also provides protection and support for refugees and host communities in Lebanon, Jordan and Turkey.
Switzerland remains committed to promoting peace in the region, and has earmarked CHF 7 million this year for this purpose. The focus is on supporting the UN peace process based in Geneva under the direction of UN Special Envoy Geir Pedersen. Switzerland is working to ensure that the UN peace process is not confined to the warring parties. Ordinary Syrian citizens must also have their say. To this end, Switzerland created a platform in Geneva – the Civil Society Support Room – where stakeholders were also able to meet while the Brussels conference was in progress.
Switzerland is also committed to ensuring respect for international law in Syria and supports efforts to deal with the past and combat impunity.
At an event in Brussels co-organised by Switzerland, the head of the Swiss delegation, State Secretary Pascale Baeriswyl, called on all parties to the conflict to respect international humanitarian law and human rights. Switzerland supports efforts to ascertain the fate of an estimated 100,000 to 200,000 people who have been imprisoned or have gone missing in Syria, and to assist their families. It will continue to work to ensure accountability for the violations of international law committed in Syria. The Geneva-based International, Impartial and Independent Mechanism for Syria was mandated by the UN in 2017 to play a key role in this respect.
---
Further information:
Speech by State Secretary Pascale Baeriswyl at the 3rd EU-UN conference on Syria
Swiss involvement on behalf of victims of the Syrian crisis

---
Address for enquiries:
FDFA Information
Federal Palace West Wing
CH-3003 Bern, Switzerland
Tel.: +41 58 462 31 53
Fax: +41 58 464 90 47
E-mail: info@eda.admin.ch
---
Publisher: