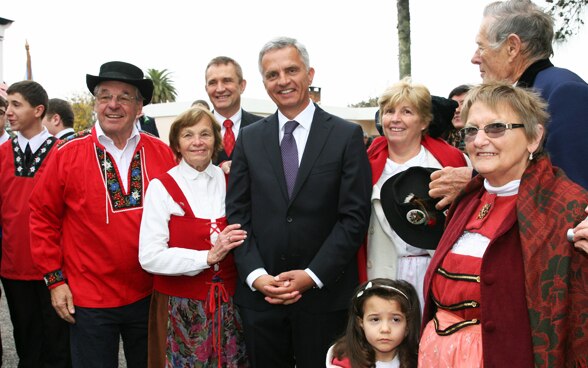 Relations between Switzerland and Uruguay are unusual from a historical perspective, and the two countries have close political ties. Swiss immigrants founded the city of Nueva Helvecia in the 19th century, and later developed the dairy industry, imported modern farming equipment and founded the cheesemaking industry in the country. One of Uruguay's constitutions was based on the model of the Swiss Federal Constitution and twice in Uruguayan history, a collegial system of government was adopted based on the Swiss model.  Because of the country's size, prosperity and political system, Uruguay is known to this day as 'the Switzerland of South America'.
Federal Councillor Didier Burkhalter took advantage of his visit to Uruguay to meet descendants of Swiss immigrants in the city of Nueva Helvecia. In his speech, he noted how impressed he was by their continued close ties to the land of their forebears: "You are Swiss at heart," he said.
Mr Burkhalter also took part in a ceremony to lay the foundation stone of a building that will provide shelter to people during natural disasters. The building, which is being built with Swiss financial support, is a sign of closer cooperation in the area of disaster risk reduction, i.e. measures to prevent and cope with natural disasters.
In the immediate aftermath of the flooding that swept the country in April 2016, the Swiss Humanitarian Aid Department dispatched an expert to the disaster area and made available CHF 50,000 in emergency aid in Nueva Helvecia. In his speech in Nueva Helvecia, Mr Burkhalter also announced that the Cantons of Fribourg and Ticino and the Ticinese commune of Quinto are providing financial support for the reconstruction efforts. The Cantons of Fribourg and Ticino and the commune of Quinto are partners of Nueva Helvecia. Some 130 years ago, descendants of Ticinese immigrants in Nueva Helvecia collected money for the people of Quinto after the commune was ravaged by a major fire. The people of Quinto have now collected money to help the city of Nueva Helvecia and its approximately 10,000 inhabitants. This is a wonderful testament to "the vibrant friendship and solidarity between the people of Nueva Helvecia and their Ticinese cousins," said Mr Burkalter in the Uruguayan city.
---
Further information:
Speech by Federal Councillor Didier Burkhalter (fr)
Bilateral relations between Switzerland and Uruguay

---
Address for enquiries:
Information FDFA
Bundeshaus West
CH-3003 Bern
Tel.: +41 58 462 31 53
Fax: +41 58 464 90 47
E-Mail: info@eda.admin.ch
---
Publisher: