International Career Day 2018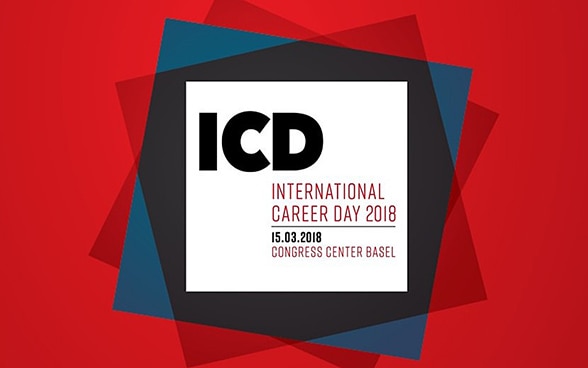 The online registration has been closed.
You may register directly onsite
at the Congress Center Basel
on 15 March 2018, from 10am.
The 15th edition of International Career Day (ICD) will take place on Thursday 15 March 2018. The Federal Department of Foreign Affairs (FDFA) invites university graduates and young academics to the Congress Center in Basel to meet representatives of international organisations and learn about their activities and career opportunities.
The ICD offers young professionals and students at Swiss universities a platform to meet with representatives of international organisations and learn about career opportunities and working in the multilateral environment. Over 50 high-profile international organisations active in different sectors will be represented in Basel, where they will answer questions from about 2,000 expected visitors about what they do, what they are looking for in prospective employees, career profiles and much more.
For the first time in Basel
The ICD is now a long-standing tradition which has grown significantly both in terms of participating organisations and visitors since its launch in 2003. Following previous stops in different Swiss cities, the ICD will now take place for the first time in Basel, a city where the borders of Switzerland, France and Germany meet and home to the oldest Swiss university.
The event will start with an official welcome at 10.30am (doors open at 10:00am) and end at 5pm. Participation is free of charge. Tickets can be ordered using the form. For further information, please email the United Nations and International Organisations Division of the FDFA at: