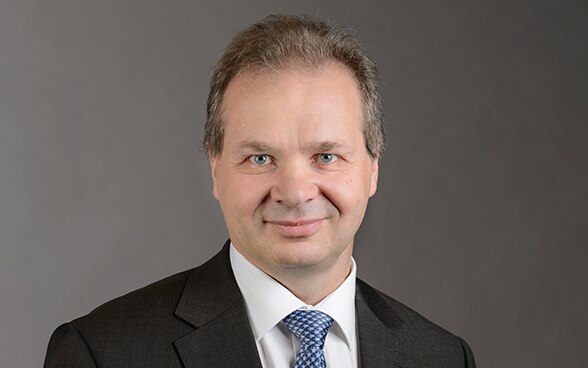 Dear visitors
I am delighted to welcome you to the Swiss Delegation to the Organization for Security and Cooperation (OSCE) in Vienna.
After an intense and often hectic 2014 in which Switzerland held the chairmanship of the OSCE for the second time following its first term in1996, our country has remained a member of the OSCE Troika in 2015. We are assisting current chair Serbia and future chair Germany in leading the OSCE. Our experiences last year in managing the crisis in and around Ukraine have made us an important and valued partner.
Continuity is the focus of our priorities this year. We are working in a much smaller team than last year to implement the 2014-2015 chairmanship programme coordinated by Serbia and Switzerland. According to the rules of the OSCE, the country holding the chairmanship has the responsibility for final decisions, but they are implemented in tandem for better continuity and to ensure a long-term perspective. A number of important themes remain high on Switzerland's agenda, including addressing the Ukraine crisis, reconciliation and cooperation in the Western Balkans, implementing commitments in the human dimension (e.g. combating human trafficking and preventing torture), cybersecurity, addressing transnational threats such as foreign terrorist fighters, and increasing the organisation's capacity to mediate, and to manage the threat of natural disasters.
Moreover, we are helping our Serbian colleagues establish consensus on important OSCE decisions, such as the extension of the mandate of the Special Monitoring Mission to Ukraine. This means sounding out participating states with frequently diverging interests for points of consensus and converting these into decisions. Switzerland is highly appreciated as a bridge-builder and mediator – even more so today than before the crisis. The delegation in Vienna will work to ensure the OSCE remains as well-prepared as possible for the tasks entrusted to it and can continue to make a significant contribution to the (re)building of the Euro-Atlantic and Eurasian security community.
Ambassador Claude Wild