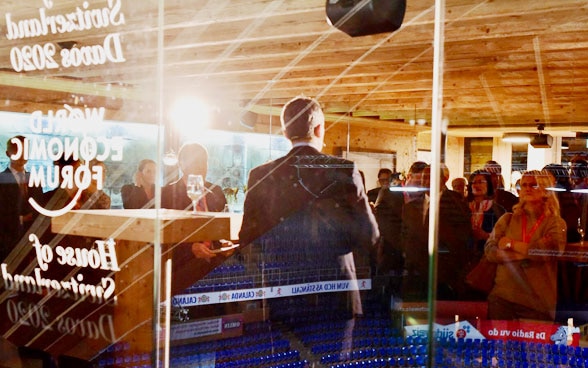 Cement that emits up to 40% less CO2 than conventional cement and a construction code for energy-efficient housing in India: Swiss technology and expertise are helping to reduce millions of tonnes of CO2. The SDC showcased these innovative technologies at the 'Tech4Good' event at the World Economic Forum.
The Swiss Agency for Development and Cooperation (SDC) has also supported the development of LC3, a new type of high-tech, eco-friendly cement which is helping to reduce the environmental footprint of the industrial and construction sectors, which are responsible for almost 40% of global carbon emissions. Cement production alone accounts for between 7% and 8% of total CO2 emissions generated by both sectors. LC3, which was developed by EPFL in cooperation with Universidad Central de Las Villas in Cuba and the Indian Institutes of Technology New Dehli and Madras, is now being piloted at global level. As part of the Building Energy Efficiency Project (BEEP) in India, the SDC assisted the Indian government in producing the first construction code for energy-efficient housing.
 
The SDC is leveraging Swiss expertise and innovative technologies to deliver on its mandate to reduce poverty and address global challenges such as climate change.
New technology for the benefit of all
"Tech4Good means harnessing new technology around the globe to generate added value for the economy, the environment and, above all, people", explained Federal Councillor Ignazio Cassis, head of the FDFA, at the Tech4Good launch in the House of Switzerland in Davos.
The second Tech4Good event to be held in Davos focuses on finding creative solutions by exploiting new technologies and partnerships with the public and private sectors and the academic community. At the 2020 event, business leaders, political representatives and Swiss researchers discussed the key role of innovation in addressing climate change.
Working together for the common good
Swiss technology can permanently improve the living standards of millions of people, not just by deploying innovation in the construction industry but also in relation to farming techniques, preventative healthcare, the fight against climate change, resilience to disasters, and access to resources such as water. The SDC promotes, develops and supports dozens of high-tech projects in partner countries and, in particular, in emerging economies.
Climate change is a global phenomenon that affects everyone. Emerging economies are experiencing a construction boom. The SDC's initiatives to make materials and buildings cleaner and more energy-efficient can make a big difference in our collective response to global warming.
 "Working together for the common good is a crucial part of the DNA that we – as citizens of Switzerland and of the world – have in common, whether enshrined in our constitution, or as part of the global community's 2030 Agenda for Sustainable Development", emphasised Mr Cassis. 
---
Further information:
Speech by Federal Councillor Ignazio Cassis
'Tech4Good' – Effective partnerships with the private sector and academia, SDC
LC3, a new type of cement
BEEP: Better buildings – less environmental impact

---
Address for enquiries:
FDFA Communication
Federal Palace West Wing
CH-3003 Bern, Switzerland
Tel.: +41 58 462 31 53
E-mail: kommunikation@eda.admin.ch
Twitter: @SwissMFA
---
Publisher: