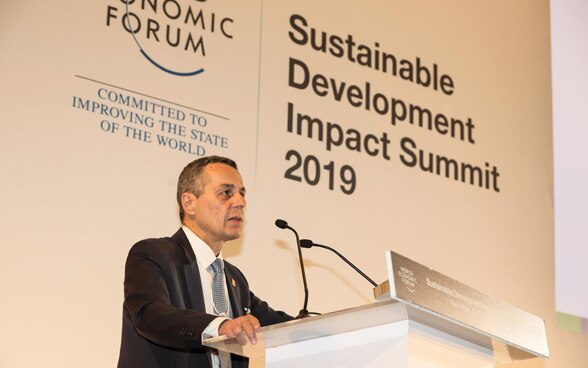 The discussions that have taken place over the last two days here at the Sustainable Development Impact Summit have shown the great importance to find innovative common solutions to implement the 2030 Agenda.

One more time, the World Economic Forum has demonstrated its unique convening power to foster public-private cooperation and engage actors from all sectors towards a common objective.

Engaging private sector

Private sector engagement is crucial to the advancement of the 2030 Agenda. The business community is the main driver of inclusive economic growth and decent job creation. It generates the new technologies that we will need in order to address global challenges.

Switzerland is proud to have contributed to this dialogue, and confirms its willingness to work even closer with the World Economic Forum on financing the sustainable development agenda. In our view, it is important to get the private sector more involved and to use Sustainable Finance as an accelerator. Switzerland is one of the world's leading financial centres and a global hub of excellence in the field of innovation and sustainability. We want to build on this position by setting trends and leading the way forward. Sustainable Finance is becoming "mainstream" in Switzerland.

However, to be effective, measures must be ecologically, economically and socially sustainable. The consequences of our actions, such as climate change and biodiversity decline, are a major challenge that we must address with determination.

Fight against Climate Change

Under the Paris Agreement on Climate Change, Switzerland has committed to halve its greenhouse gas emissions by 2030 compared with 1990 levels. In the context of the Climate Summit, Switzerland announced the ambitious target to reduce its net carbon emissions to zero by 2050. This target is in line with the findings of the 1.5°C report by the Intergovernmental Panel on Climate Change.

Furthermore, the fight against climate change has been defined as a strategic focus of Switzerland's international cooperation for the time period 2021-2024. We will strengthen the provision of expertise, technical solutions and financial resources for climate protection as part of our international development projects and via international funding mechanisms.

The private sector also has a vital role to play in curbing the effects of climate change by limiting carbon emissions and deploying effective measures for climate change adaptation. Climate change will impact business and industry worldwide. In fact, the 2019 Global Risks Report of the WEF lists extreme weather events, failure to implement sufficient climate change mitigation and adaptation, and natural disasters among the top five threats. This shows that decision-makers from both the public and the private sector are increasingly aware of the consequences of climate inaction. And so is Switzerland: We are aware that climate change affects human security. By investing in climate change mitigation and adaptation, we ultimately invest in our own security.

New technologies and partnership

New business models and technologies are needed, especially on climate adaptation. We as governments – in Switzerland and also in partner countries – are keen to engage and collaborate with private sector entities, from small start-ups to multinational companies, to foster a global paradigm shift towards sustainable development (a low carbon economy.)

Switzerland has been and remains one of the world's most innovative countries. Our public policy is aimed at fostering sustainable development by ensuring that Education, Research and Innovation serve social, economic and environmental interests. Innovative approaches are key when it comes to anticipate and find viable solutions to future challenges. Steve Jobs would say "It's not faith in technologies. It's faith in people."

Achieving the international and national goals through innovation with public funding only will not be sufficient, as we all know. "Mobilizing Action for Inclusive Societies" requests the inclusion of all members of a society.

Leaving no one behind requires addressing the specific needs of people in vulnerable situations, but also empowering them and engaging them in decisions that impact their lives. Individual responsibility and freedom are our driving forces.

Achieving the Sustainable Development Goals and the 'leave no one behind' imperative contribute to peace and stability in the world and to my country's security and prosperity. As is stressed in the Swiss Constitution, "the strength of a people is measured by the well-being of its weakest members."

Finally, I would like to commend the continuous efforts of the WEF in engaging political, business and other leaders of society to shape a sustainable world based on inclusive societies. Gathering world leaders and experts and exchanging views and ideas on sustainable development significantly contributes to the identification of solutions and supports an effective implementation.