Switzerland's candidacy for the UN Security Council enters final phase
Switzerland is a candidate for a non-permanent seat on the United Nations Security Council. Elections for the 2023–24 period will be held in June 2022. The candidacy entered its final phase with a virtual event in New York attended by the president of the Swiss Confederation, Simonetta Sommaruga, and Federal Councillor Ignazio Cassis.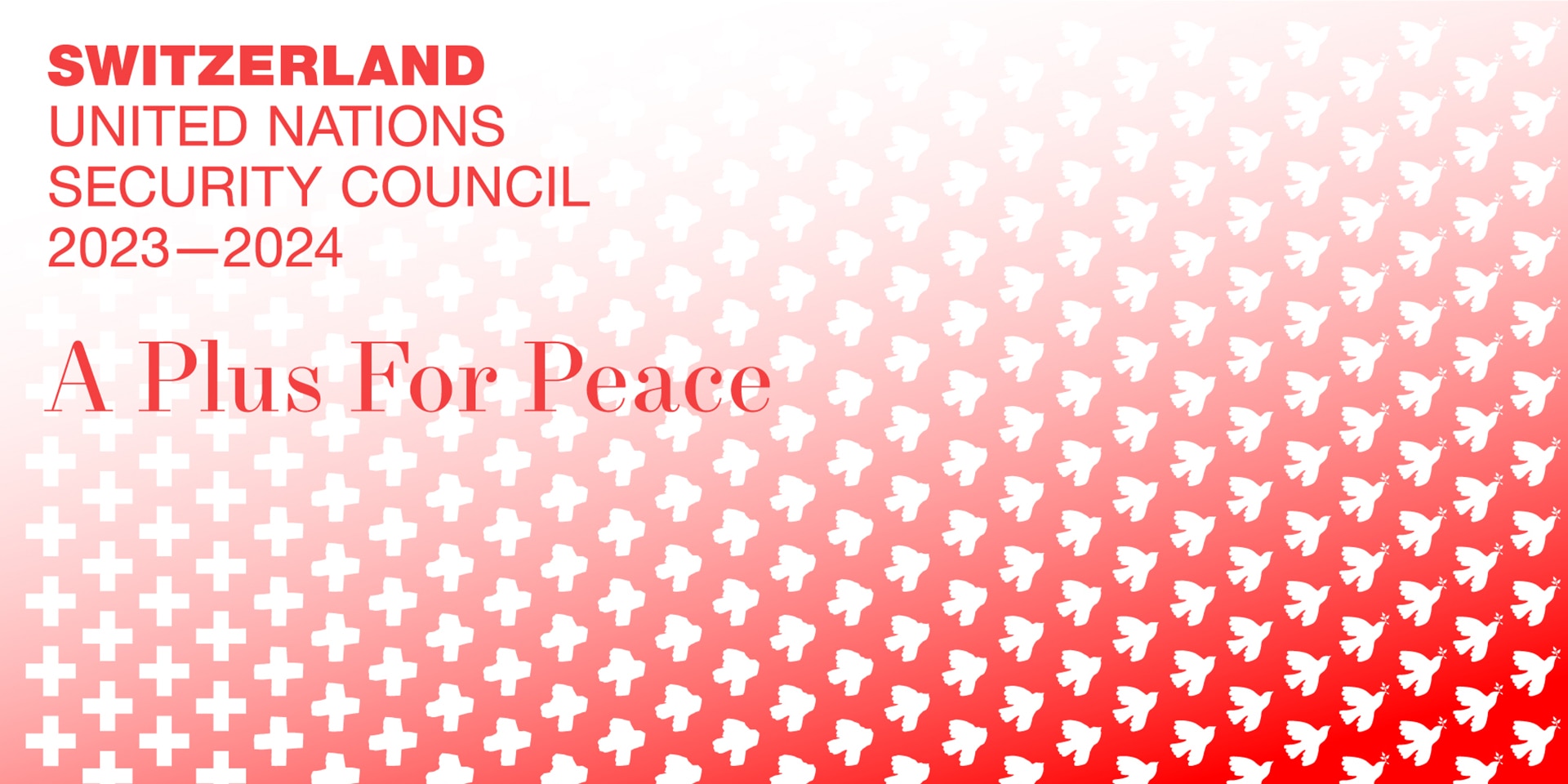 A Plus For Peace: The slogan of Switzerland's candidacy for the UN Security Council. © FDFA
Switzerland officially submitted its candidacy as a non-permanent member of the UN Security Council in 2011. Following the election in June this year of its direct predecessors in the regional group Western European and Others Group (WEOG) for the years 2021 and 2022, Switzerland has now entered the final phase of its candidacy. Under the slogan 'A Plus for Peace', the candidacy was presented online to the representatives of all UN missions on the evening of 29 October in New York (local time).
On 30 October in Bern, Ms Sommaruga and Mr Cassis informed the media about the event and the state of implementation of Switzerland's candidacy. A seat on the Security Council will allow Switzerland to further its foreign policy objectives and to promote its strengths in peace and security. 
Commitment to peace and security

Ms Sommaruga and Mr Cassis had originally planned to make the journey to New York; however, because of the travel restrictions due to the COVID-19 pandemic, the event was held virtually. In her video speech, Ms Sommaruga underlined the strengths of Switzerland's political system: "We seek consensual solutions in domestic politics as well as in our foreign policy. The only way to build consensus is through dialogue." Mr Cassis emphasised Switzerland's intention to contribute positively to the Security Council: "We are well known as a reliable partner, with a long tradition of promoting peace." He highlighted Switzerland's commitment to the rule of law, democracy and peace and security. 

When countries submit a candidacy for major UN bodies, it is customary that they suitably introduce themselves to the other UN member states. The event was organised by the Swiss Mission to the UN in New York. 

Candidacy based on Foreign Policy Strategy 
Besides Switzerland's commitment to peace (A Plus for Peace), the elements of the Swiss candidacy presented in New York include its promotion of international humanitarian law, humanitarian aid and human rights (a plus for humanity), its efforts to implement the 2030 Agenda for Sustainable Development (a plus for sustainable development), the importance of International Geneva (a plus for multilateralism) and its driving role in innovative developments and digitalisation (a plus for innovation). 
The website www.aplusforpeace.ch, launched parallel to the event, aims to raise international awareness of Switzerland's bid. The main elements stem from the Federal Council's 2020–2023 Foreign Policy Strategy.